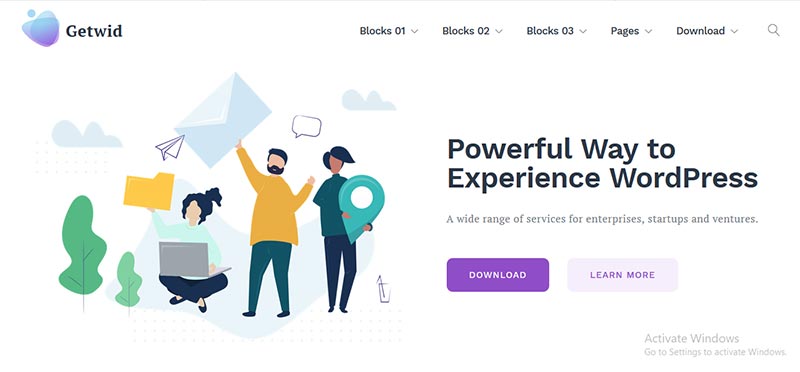 Your company must have a reputable website, whether you are attempting to start or operate a profitable digital agency. In the past, it could have meant recruiting and paying for their services as a freelance web designer or collaborating with a creative agency. Now you can find a solution off the shelf for a fraction of the size, thanks to the fantastic range of the best digital agency WordPress themes. WordPress can be easily activated, customized, and managed. The CMS is open and safe. For thousands of free plug-ins on the Web, it is highly extendable.
These WordPress themes feature a clean and straightforward professional design for marketing, innovative Web, and SEO agencies. This gives a feeling that the website is powerful and effective. Even if you don't know anything about customizing and coding, this isn't another problem. The themes are filled with detailed documentation and are available free of charge 24/7/365 support services.
You can find various fantastic WordPress digital agency themes in this collection. The designs, layout, form, and other elements can vary, but they serve the same function. To provide you with the finest and the best WordPress Themes for Marketers and create your site easily. Scroll through the list and select the best WordPress theme for your company's digital agency.
AthemeArt's Business Consultant Finder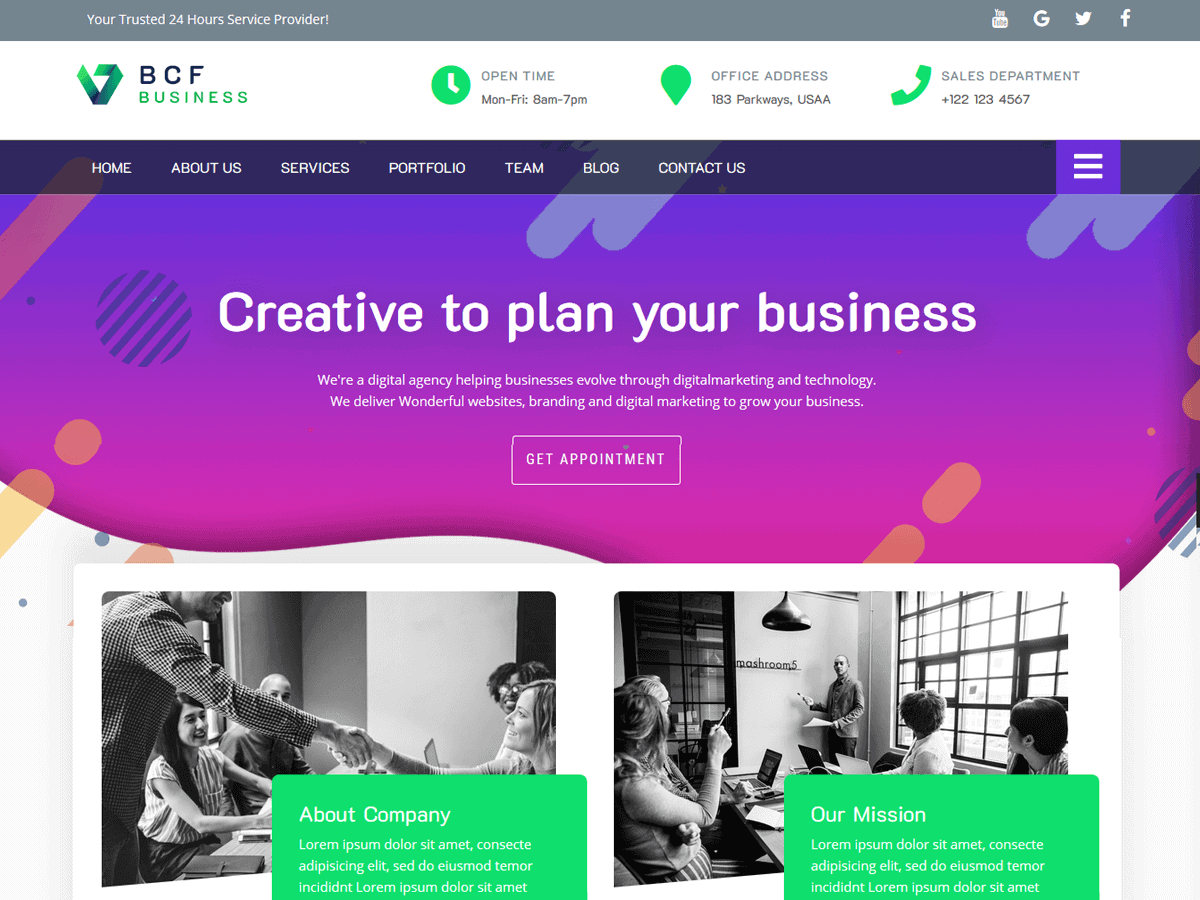 Business-Consultant-Finder is a multipurpose business theme with a qualified, lightweight, open, and extensible design. The digital marketing WordPress theme is perfect for building virtually any platform. If the thought of customizing the theme makes you anxious, know that you can drag and drop elements to create pages without even searching for code. The most common page builders include Elementor, Beaver Builder, VISUAL Composers, Divi, and Site Origin etc. You also get five post forms, a few scrolling animations, various Menu Styles and Google Fonts (default, Image, Gallery, Video and Quote). The theme is Woocommerce compatible, with Elementor and Layer slider, Smart Slider 3, and Revolution Slider. So, pick up this fresh and interactive WP WordPress business themes now.
VW Theme's Digital Agency Lite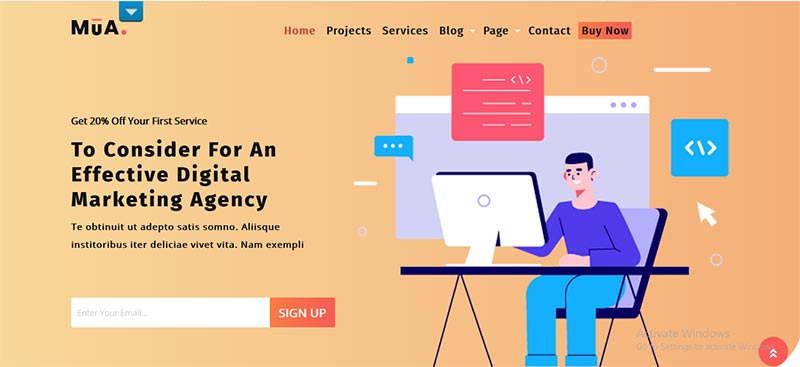 Digital agency lite is a sleek and state-of-the-art WordPress theme with stylish looks. This lite version of digital agency WordPress theme can be used for several purposes as it serves a broad variety of businesses that includes offering digital services such as web design and online marketing. In comparison, digital agency lite has a safe and clean code that reduces the maintenance burden explicitly. You can quickly build a completely functional website with minimal architecture, which illustrates essential details. So other essential characteristics contribute to its importance. It is built on a strong Bootstrap structure and its readiness to SEO ensures that you get better qualifications on popular search engines. It's lightweight with faster
MotoPress's Getwid Base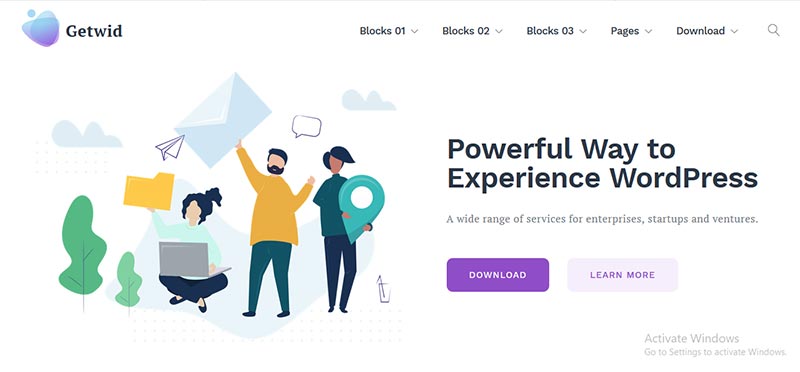 The Getwid Base is a clean, and lightweight Gutenberg framework built so that the custom block for Gutenberg will function seamlessly with its current block-based editor and Getwid plug-in. Thanks to a combination of Gutenberg core blocks and advanced block library, the Getwid plug-in helps you to build and customize content-rich sites without coding. Using Getwid Theme to develop a small to medium size company website, a creative or digital agency website, a start-up or product landing page, and a separate business and portfolio web site.
SEO & Digital Marketing WordPress Theme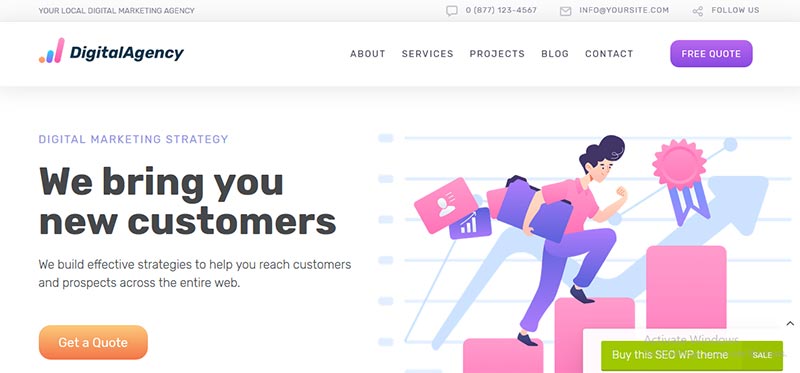 SEO & Digital Marketing WordPress template is primarily designed for marketing and provides SEO, Advertisement, and Finance services as well as other internet advertisement related services.
This Theme for WordPress comes with the pages you need for your social media presence, such as ventures, forums, reviews, and shops. In contrast, with Visual Composer Plug-in you can change front pages. Designed to suit all the most recent trends and strategies, this feature gives the site a real difference.
EDataStyle's Be Page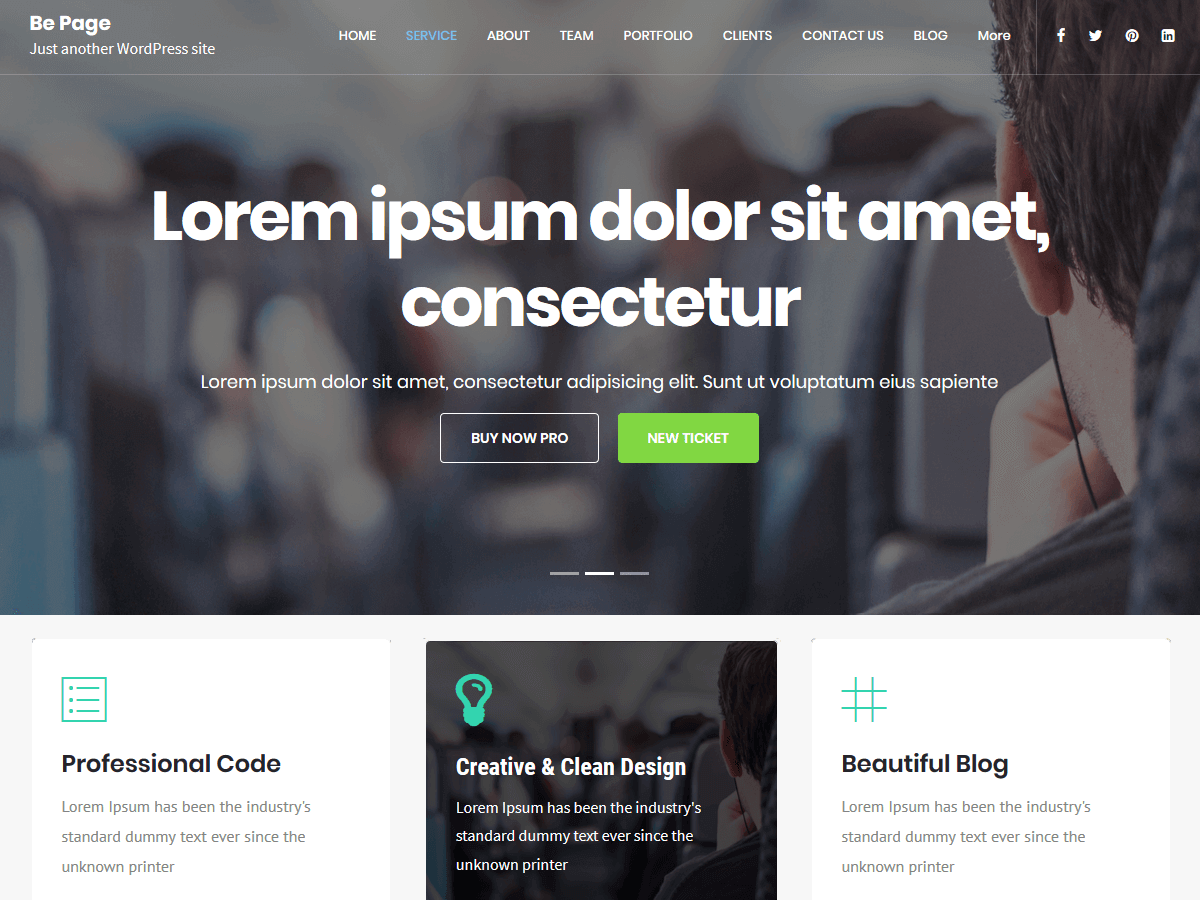 Be Page is a flexible, multipurpose WordPress theme for business and educational websites. It is based on the Bootstrap and the HTML5/CSS3 technologies with minimum design, elegant and straightforward. Be page features complete and seamless integration with Elementor Theme Builder-designer of Free Drag and Drop Theme and Ultimate Add-ons. The template is designed for smartphones and tablets, offers simple documentation and requires no coding skills.
Optimize – SEO & Social Media Theme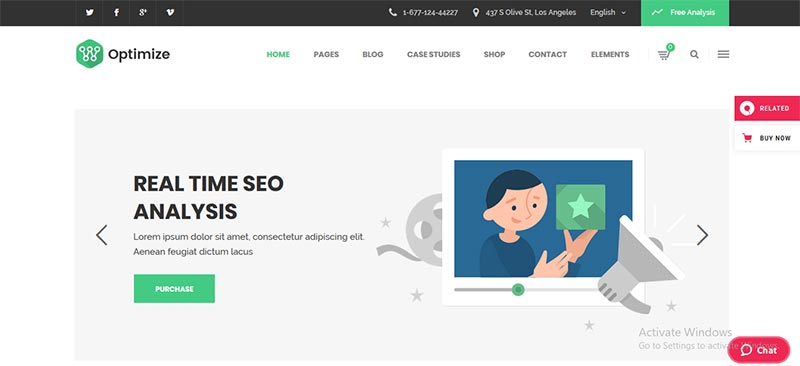 Optimize is a fantastic WordPress theme built specifically for an SEO platform, a digital marketing agency and an agency for social media marketing. This is a modern theme that will catch your visitor's attention.
Firstly, Optimize comes with a wide range of pages that can easily be customized to the requirements of companies in the market, as mentioned above areas, and is fully integrated with the most incredible SEO plug-ins. Secondly, all its features were carefully developed and built to meet precisely the requirements of digital marketing, analytics, and SEO.
BC Business consulting by aThemeArt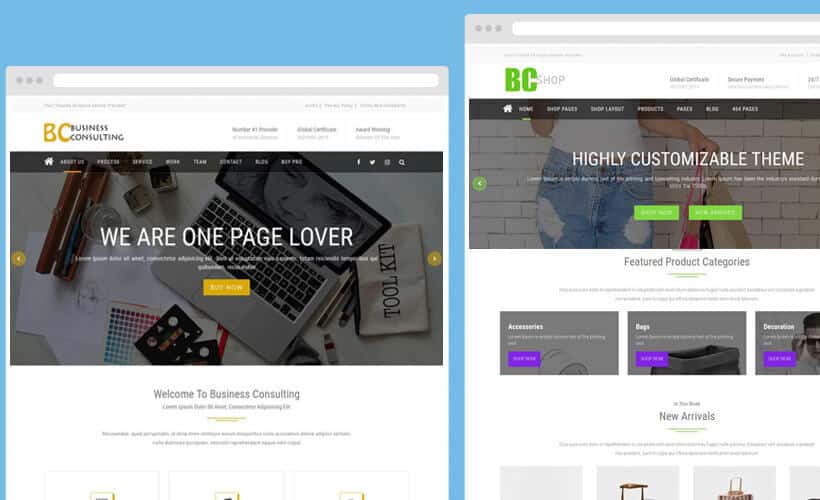 For any project, company, organization, person, or website studio BC Business Consulting is a smooth, super versatile, and completely responsive digital marketing WordPress theme. This has the most advanced technology. It is designed to ensure the constant freedom to
build and personalize your site pro and without coding. This flexible, multi-function Theme is suitable for beginners while also offering a range of features that is rich and extendable to developers, freelancers, and that organizations. This theme is well discussed and also has sufficient supporting documentation.
Digital Marketing Lite

The Digital Marketing Lite – WordPress Digital Marketing Agency Theme for all forms of SEO advertising and Web agency is a modern, contemporary WordPress theme. It is suitable for all kinds of website and company businesses such as SEO service, digital marketing, email marketing, web service providers, developers of apps, mobile applications, and so on. You can use it quickly. It includes loads of animation features, a slider, a responsive version, a super menu, and SEO icons, which allow you to create a website in one hour! WordPress Theme Digital Marketing Agency is a perfect choice for any form of an Internet marketing agency.
Launchkit Landing Page & Marketing WordPress Theme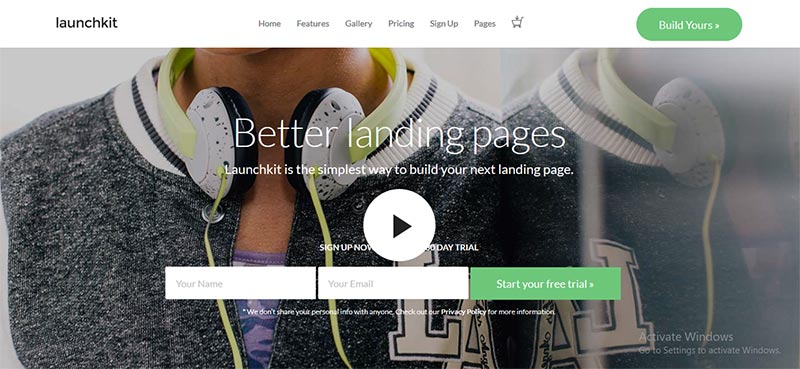 Launchkit is a total solution with limitless marketing ability and appeal. Through simple, balanced content blocks that provide adequate opportunity for visitor conversion, launch your next product or service in the right direction. Many fully-realized demo pages show Launchkit's flexible elegance, the ideal look for your next landing page has never been more natural to understand.
A variety of configurations give valuable A /B testing opportunities for any carefully built block. To help you best target your potential customers, use Visual Composer to experiment with different header designs, colors, and fonts. Taking proof of contemporary and genuine aspects and using the best of the modern Web in a notable model, LaunchKit is the only "start-up platform" you need to start your next landing page, portfolio, or multipurpose project, along with customization capacity from the Visual Composer Page Creator.
Seosight – Digital Marketing Agency WordPress Theme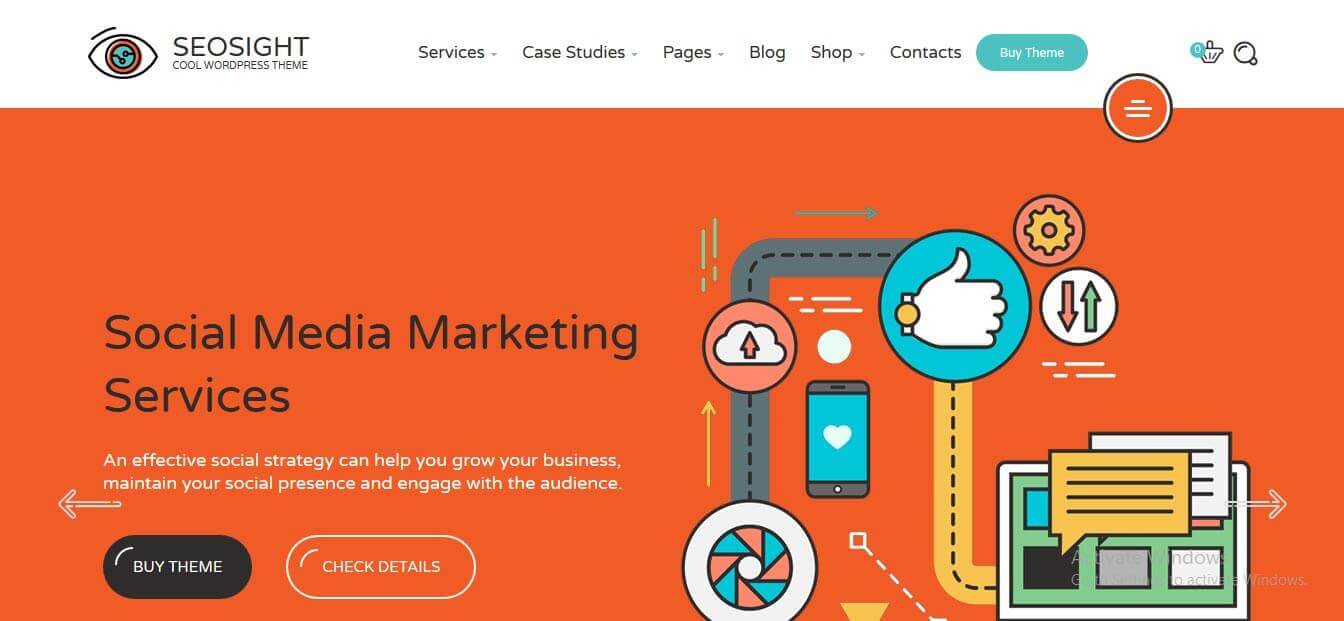 A selling point of a website is an excellent and eye-catching design. This SEO theme is nothing like it. Seosight turns out to be a fascinating platform for tourists because nothing like it was seen. Make a website user impressive and learn a lot more than you would think.
SEOsight has been built to satisfy the requirements of SEO companies, experts and freelancer organizations, online markets, digital marketing companies, production studios, advertising agencies, SMM experts, lead generation specialists, designers, landing pages, company site creation, web development, etc. SEOsight is designed for all needs. Any company will succeed in this theme.
On all apps, Seosight looks fantastic because of the correct CSS and HTML, complete reaction to the topic, and the implementation of the highest SEO guidelines. This fascinating topic includes KingComposer Frontend Editor, RTL support, sliders to customize easily, the contact form Builder, and other useful options. You'll only have one click away from importing beautiful SEO for your website. Seosight theme is designed to the latest guidelines, tags, and best SEO practices for WordPress. You are happily pleased by the smooth operation and flawless design.
SEO Lounge – Digital Marketing Theme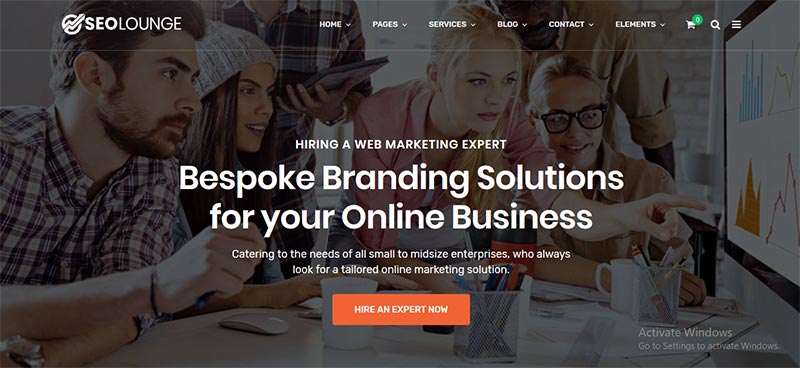 The SEO agency WordPress theme is perfect for SEO and Digital Marketing companies. This theme SEO WordPress features 15 homepage designs, 20 + realistic internal page designs, forum, WP Bakery prototype designers, 6 months support included. It is just an SEO subject that you need to excel in digital marketing. All options are preserved in a convenient control panel that features powerful premium plug-ins to boost the web site with powerful functionality at no extra expense.
DotDigital – Web Design Agency WordPress Theme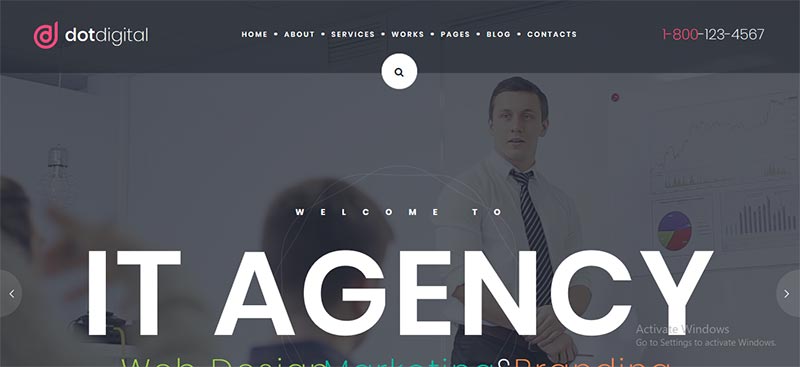 DotDigital is a new theme for WordPress design, marketing and branding services, site building, production of applications, SEO marketing and other enterprise online enterprises solutions.
As a business that offers the essential services of our time – you have to make sure your website looks stunning and appealing! It must also be practical and have an elegant interface and be easy to use and hand-made. DotDigital allows you to edit and change the incredible set of predefined demonstrations using the basic drag-and-drop technique. The interface for search engines is also 100 percent mobile-ready, quick loading, and configured. With a landing page, you can easily convert and use it to find new leads. The choices are limitless as long as you aren't restricting yourself. You can also start a blog that helps you extend your scope and move your business forward. Note, the theme is also designed for both frequency and SEO. With its features and functions, this cracking web design goes beyond and beyond, making you get the most out of it quickly.
SEO Digital Marketing Agency WordPress Theme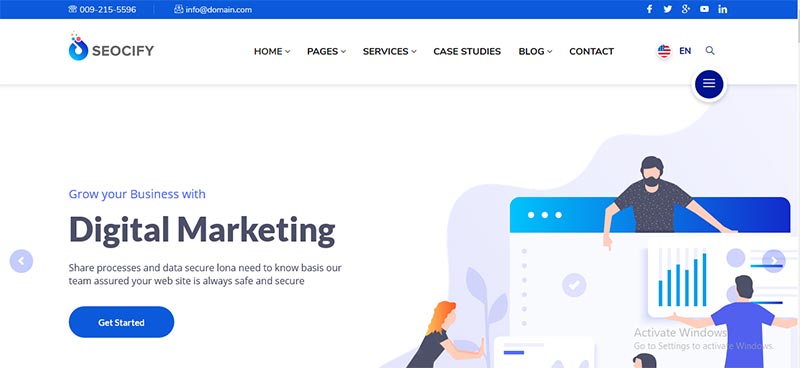 For Seo and the digital marketing agency business, Seocify has been specially developed! It is based on Elementor Front End Page Builder and Slider Revolution and is beautifully built to offer you the best user experience. This is ideal for many different forms of online companies such as internet marketing, the social media marketing agency, the SEO agency, and the web site of the social network. Seocify provides a range of streamlined pages such as support pages, portfolio pages, case studies, and prices pages.
It is beautifully built to have the best experience you would enjoy in a brilliant way. This service is suitable for many kinds of online companies, including internet marketing, SEO Agency, digital marketing, and the website of social media.
It's super versatile with loads of great features like Image, Video, Color, and Google Font. The concept of Spotify has a completely customizable interface. This blends well into every monitor and size of laptops, iPads, iPhones, and small handheld computers, such as laptop screens. The upturn is very SEO-friendly and allows you to create codeless templates, enabling you to edit your website visually.
Mr SEO-The theme of the Social Media Marketing Agency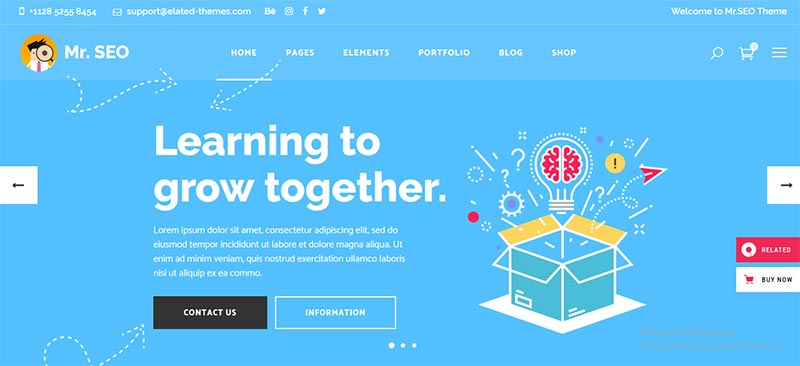 When you want to launch an incredible SEO platform or your social media marketing department or content marketing department, don't look any further. Its beautiful homepages and a wide range of beautifully styled display elements allow you to view your company. Share your social media content quickly and let visitors know what you have done. Mr. Seo is compatible with a range of SEO websites of significant importance, such as the Yoast Google Analytics plug-in, the SEO All in One plug-in, etc.
Conclusion
We hope you enjoyed this fast loading of themes and choose something for your website. In reality, they can appeal to any consumer because any consumer can use your website on PCs or mobile devices. After all, they are susceptible. For both business and individual sites, you can use prepared models as most of them are multifunctional and versatile.