Hi, I´d like to have an easy way to create a product grid (showcasing products – photo, short descriptor & c.) – same as shopstore example website https://athemeart.com/demo/shopstore/
I downloaded and installed the Shopstore demo but don´t see the products that appear on your site (Tshirts, hoodies, belts, etc.) – which is what I need to do. I only see the WP post formats (video, gallery, etc.)
Any easy way to do this?  Thanks. Jim.
2 Answers
HI
thanks for using the theme! please make sure you have installed theme recommended plugins search as ( ShopStore Elements Addon , Codestar Framework, elementor ). to install navigate to wp-admin –> Appearance –> Install Plugins. after install simply go page editor with elementor . you will find options as bellow screenshot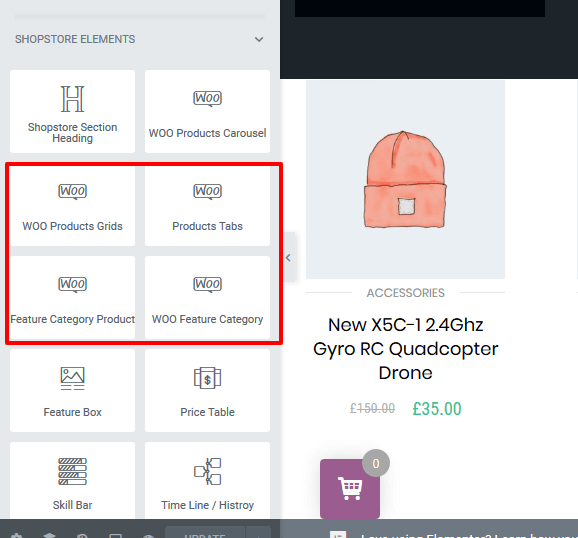 Hi,
I went in to check… Codestar Framework I had to install. The others were already installed. After checking that, I went to edit a page with Elementor. I do not see any of the highlighted icons (Woo Prods grid, Prods Tabs, Feature Cat Prod, Woo Feature Category). I don´t  see Woo Products Caroussel. Although I don´t need Woo Commerce at this stage, I do need to products grid.
Thanks.

Sorry for delay reply! here was eid holiday … can you please give me wp-admin user name and password with site url in a private ticket so we can check and fix everything within few time
thanks