Are you want to build your online WordPress store through the Shopstore theme? Or, are you facing problem to create your online WordPress store with the Shopstore theme? If yes, then this blog post is undoubtedly appropriate for you. So now, in this post, we'll discuss the top three (03) fundamental and the most powerful functionality, which demands lots of works.
Theme Installation, Theme Required Plugin, and Demo Import are the most effective and essential functions to create your WordPress store theme. If you perform these three functions correctly, you will be able to create and live your store primarily. Now a question may come to your mind, how do you do this, right? Well, the very first thing you need to do is collect the .zip file of the Shopstore theme. Then, you need to install the theme on your website. And lastly, you need to import your demo to make the theme live from your website. And this is the very primary step to create a WordPress shop theme.
Didn't you get it? Okay, let's make it easier and comfortable.
First recommendation:- Theme Installation
Thanks for being with us with the ShopStore WordPress eCommerce theme. There are usually two options for installing a WordPress shop theme. For instance, with any FTP client manually, and automatically via the WordPress upload feature. So, here we'll explain both of the options so that you can comfortably install your WordPress theme.
First option: – Install with FTP Upload:
Firstly, download the .zip file (shopstore-pro can be download from https://athemeart.com/customer-login/ after the purchase). And Unzip the shopstore-pro.
Open up your FTP manager and connect to your hosting.
Browse to wp-content/themes.
Upload the shopstore-pro theme folder.
Log Into WordPress and go to Appearance – Themes.
Find the prefix and click activate.
Second option: – Install with WordPress Upload:
The theme installation process is the same as the other WordPress shop theme.
Firstly, download the .zip file (shopstore-pro can be download from https://athemeart.com/customer-login/ after the purchase).
Go to your WordPress Dashboard then Appearance > Themes.
Then click the Add New button.
Now, click on the Upload Theme button on the top.
Use the Choose File button to select the shopstore-pro.zip file.
To click Install Now Button, please navigate the theme .zip file from your computer.
Click the Activate Theme Button after successfully installing the theme.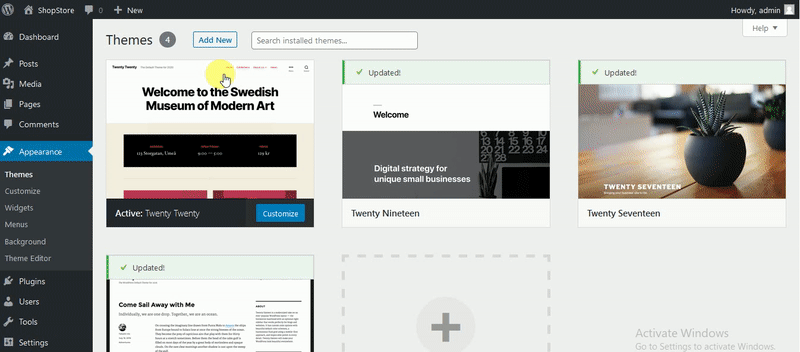 Some Possible Errors:
You may experience the text, Please try again, or Are you sure want to do this, or The link you followed has expired, when attempting to install. Not to worry, because it only occurs when your server has a low maximum file size or maximum execution time set in the PHP settings. You must increase the following PHP settings to be higher than 24M (Any reputable hosting company will assist you with this quick and hassle-free):
upload_max_filesize – greater than 24M
post_max_size – greater than 24M
max_execution_time – greater than 100
Or, you can upload the WordPress shop theme via FTP instead to bypass this all together.
Second recommendation:- Theme Required Plugin
When you successfully finish installing the theme, you'll need to install the required plugins. Because plugins are an enormous resource that allows your site to do things you wouldn't be able to do otherwise. Therefore, we have provided a GIF file below so that you can easily install the required plugins. So, watch this GIF file carefully and attentively to install your required plugins.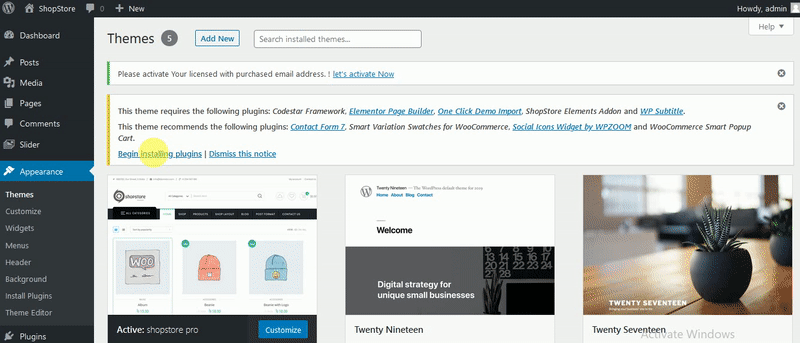 Third recommendation:- Demo Import
The theme Shopstore appears with a one-click demo importer, so it'll be very comfortable to see and implement your site just like the Shopstore demo. So, watch the steps below carefully to importing the Demo Content:
The Demo Content importing:
Please make sure that you've installed and activated all the required and recommended plugins before begin to start the Demo importer.
Navigate to Appearance -> Import Demo Data
Click the Import button
Wait for the import process to complete
And on an important note, please be sure that you run the Demo Importer for just one/first time. Because if you run multiple times, it'll fill up with duplicate content.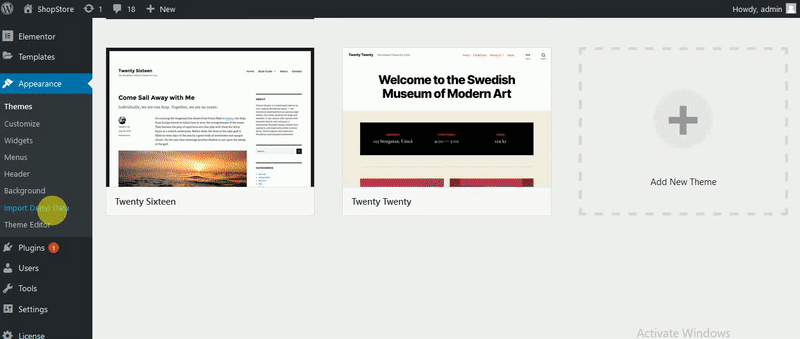 Here is another process to import the Demo Content. So, let's apply it:
Navigate to Tools -> Import
Choose WordPress from the list
Upload the demo.xml using the form provided on that page
You'll recommend mapping the authors in this export file to users on the blog.
Click on the Download and import file attachments box.
Possible Errors:
Firstly, if using any of the above methods, you don't receive a success message, repeat the steps as needed. Secondly, the demo import takes about 5-7 minutes to finish. If you notice that the demo import is taking longer than 5-7 minutes, there is probably a problem, and you can move away from the import page. Third, if imports get stuck, you need to extend your maximum editing time. And you can do this by adding this code to your wp-config.php file "That's all, stop editing! Happy blogging" line: set_time_limit(600);
Conclusion
At last, use the methods mentioned above to create a WordPress store using the ShopStore theme and make your store live. These simple three recommendation methods will not only help you to create your online WordPress store but show your website looks gorgeously.
Finally, we're hardly trying to make this post will benefit you. So, please share this post as much as possible, so that we get more inspiration. And stay tuned for furthermore engaging, exciting, and useful articles.
Inspire us with your love!
Twitter
Twitter
Pinterest
Reddit