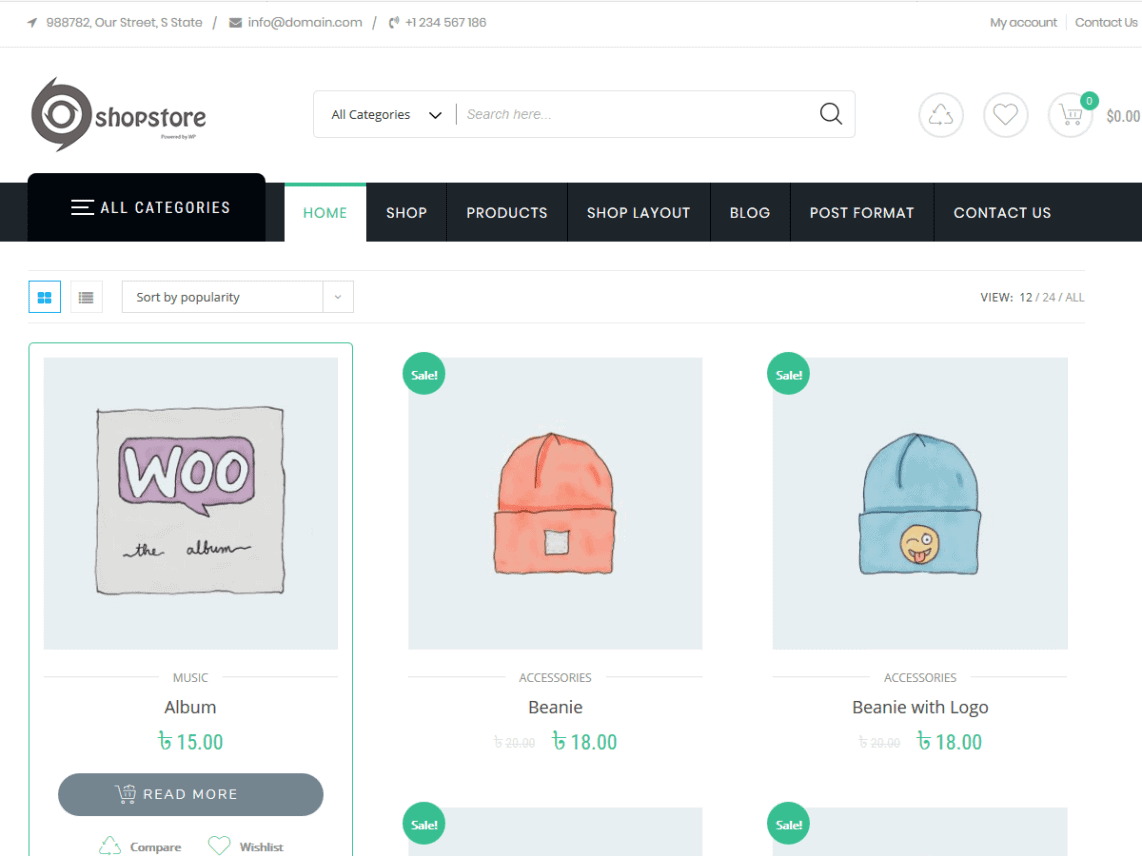 Are you a store owner? you would like to set up AN WordPress store? shopstore is a free eCommerce theme for WordPress. You can easily install on your web site and provides you an impactful online presence. Shopstore could be a lightweight eCommerce WordPress theme, designed to assist you to sell more.
Its fashionable, minimalist design makes it the right theme to showcase your products and drive a lot of sales. Impressive homepage options include a surprising image slider, a product carousel, and the ability to link on to product categories. Your guests find navigation super-easy on your website, and the image-heavy style can instantly switch guests into shopping for mode. shopstore additionally ships with a powerful range of customization options and style designs.
For a begin, you'll change the colour for each element of your web site. Moreover, you can preview it in real-time using the intuitive WordPress Customizer. There also are over 600 Google fonts, an ardent homepage example (as seen within the demo). Moreover, it gives you the chance to bolt a blog section onto your eCommerce store. We have created this theme keeping various businesses like, blogging, fashion store, vesture line, photography, toy, watches more in mind.
It doesn't matter what business you're doing. Our free eCommerce theme for WordPress permits you to have an online presence. This is a top WordPress Store theme with a fast-loading design and helps you to create your site within a short period.
Besides that, this best eCommerce WordPress theme is really easy to customize, which permits you to easily mold and shape your website. Apart from that, No, any coding knowledge is needed to set up a website as the theme is possible with drag & drop page builder.
However, We designed the shop store WordPress theme free version for startup wp store or any kind of small online store, if you want to extend to more highly then recommend an upgrade to our premium WordPress eCommerce theme .

== Credits ==

Underscores:
Author: 2012-2015 Automattic
Source: http://underscores.me
License: GPLv3 or later](https://www.gnu.org/licenses/gpl-3.0.html)

Bootstrap:
Author: Twitter
Source: http://getbootstrap.com
License: Licensed under the MIT license

Fontawesome :
Author: fontawesome
Source: http://fontawesome.io/
License: [MIT/SIL OFL Licensed](http://fontawesome.io/license/)

Customizer:
Author: https://github.com/justintadlock
Source: https://github.com/justintadlock/trt-customizer-pro
License: GNU GPL

Owl Carousel 2:
Author: David Deutsch
Source: https://github.com/OwlCarousel2/OwlCarousel2
License: [MIT License.]

Tether:
Author: TrevorBurnham  
Source: https://github.com/HubSpot/tether
License: [GPLv2 or later]

RD Navbar :
Author:  OXAYAZA    
Source: https://github.com/ZemezPlugins/rd-navbar
License: GPLv2 or later

Tgmpluginactivation:
Source: http://tgmpluginactivation.com/
License: GPL-2.0 or later license.

jquery.customSelect:
Author:  Adam Coulombe    
Source: http://adam.co/lab/jquery/customselect/
License: GPL2

magnific-popup:
Author:  dimsemenov    
Source: https://github.com/dimsemenov/Magnific-Popup/blob/master/LICENSE
License: MIT License


== Google Fonts ==
Nunito
Source: https://fonts.google.com/specimen/Nunito
License: Open Font License 

Open+Sans
Source: https://fonts.google.com/specimen/Open+Sans
License: Apache License, Version 2.0  

Roboto Condensed
Source: https://fonts.google.com/specimen/Roboto+Condensed
License: Apache License, Version 2.0 

== Image Used ==
https://pxhere.com/en/photo/1451201
All are Licensed under CC0

== Screenshots ==
1. screenshot.png